Road Rule Quiz Stumps Aussie Drivers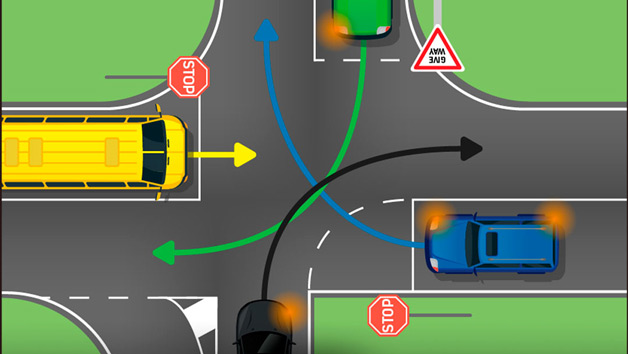 A road rule quiz posted by the RACQ (Royal Automobile Club of Queensland) has stumped Aussie drivers, leaving many arguing about the correct answer of "which vehicle moves last?"
Posting the #QuizTime question, the RACQ asked:
#QuizTime - the black vehicle is about to turn right while all the other vehicles have stopped and wish to move as shown. Which vehicle moves last?
The image shows an intersection with four different colour vehicles. A black car wishing to turn right also encounters a bus and a blue car at stop signs, whilst a green car sits at a giveway sign. What order do they go in?
Some even questioned the existence of such an intersection, one saying:
"This is a silly intersection and surely would never exist. Traffic lights would be installed as a stop sign that can go before a give way doesn't make sense. Especially travelling in a straight direction. This is called an accident waiting to happen intersection."
Someone else agreed, saying it should be replaced with a roundabout or traffic lights. They wrote:
"This intersection shouldn't exist put in a roundabout or traffic lights please!"
The comments section is filled with hundreds of comments with a mix of answers, from "Black blue green yellow in that order" to "Black, green, then yellow and blue" to "Black yellow green blue" but the RACQ posted the correct answer:
"#QuizAnswer - the last vehicle to move would be the blue car! Black goes first, then yellow, green, and blue as they all are facing give way or stop signs/lines and give way to the right rules apply. How did you go?"
When asked what suburb this intersection was based in, the RACQ replied with "you can find it at Albert St / Station Road, Bethania." Although it is indeed real and based on this intersection, it seems it was altered slightly for the purpose of the quiz and illustration.
---
Image Credit: (@racqofficial / Facebook)